eBible.org certified Bibles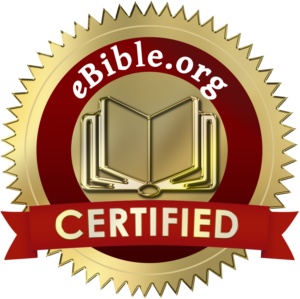 Some Bibles posted on the Internet are marked as eBible.org certified. This means that:
The Bible meets the quality standards set by the originating agency for publication.
The Bible might be incomplete, as with a translation in progress or an historical fragment, but there should be no unintentional omissions.
Copyright and use permission status is accurate to our best understanding and included with the Bible.
A series of publication quality tests have been run on the text and it has passed.
The Bible is digitally signed as a sort of tamper-evident seal.
You may send us feedback if you find that a particular Bible has quality problems. Please specify the web site, language, translation, book, chapter, and verse, as well as a description of the problem, and why it is a problem.
Tamper-evident seals
Freely redistributable Bibles such as those posted at https://ebible.org/Scriptures/ (for web site operators and Bible study app authors) are hashed with sha256sum to a file called signature.txt, then that file is digitally signed using Gnu Privacy Guard using this public key. The resulting file, signature.txt.asc, is packaged with the Bible.
To verify a digital signature on files on your local computer using the command line:
Import and sign this public key (key ID 93505F26 for editors@eBible.org) using Gnu Privacy Guard (if you haven't done so already).
Check the signature on the signature.txt.asc with the command: gpg signature.txt.asc
If you haven't got the sha256sum program already, get a copy as part of the Cygwin distribution for Windows. It is included in most Linux distributions.
Run the command line program: sha256sum -c signature.txt
Some Good Bible Sites
Alkitab.pw Indonesian/Malay
dbs.org/bible/ main inScript site
www.Bible.is Faith Comes by Hearing Bible site
eBible.org eBible.org home
eBible.org/Bible Many more Bible links
eBible.org/study/ inScript with all World English Bible editions
FSMBibles.org Federated States of Micronesia Bibles
JesusFilmMedia.org Jesus Film for free viewing and downloading
PacificBibles.org Pacific Bibles
PNGScriptures.org Papua New Guinea Bibles
TokPlesBaibel.org Tokples Baibel long Nuigini
VanuatuBibles.org Vanuatu Bibles
WorldEnglishBible.org World English Bible and World Messianic Bible

---

The eBible.org certified seal is a Trademark of eBible.org, and may not be used without permission.